Hollywood loves sequels, but it seemed strange to many that Guillermo del Toro's Pacific Rim of all films earned itself a sequel five years after release, despite its extremely weak domestic earnings and fairly average global earnings of $409 million rendering it far from a commercial failure but not exactly record breaking considering its colossal budget. With its US opening weekend set to barely reach $30 million, it seems this year's Pacific Rim: Uprising will also be relying on international takings to being recouping its beastly costs. Reviews have also been less inspired than the original; is such mediocre reception deserved?
Set in 2030, a decade after the original, Uprising focuses on Jake Pentecost (John Boyega), the son of acclaimed war hero Stacker Pentecost, who earns a living selling Jaeger tech on the black market, which soon leads him to a hidden independently made Jaeger built at the hands of young orphan Amara Namani (Cailee Spaeny). Both eventually find themselves captured by the authorities and escape prison with an alternative to join the Jaeger program itself, a familiar and unwanted sight for Jake, which finds itself thrown into action once again when a number of unexplained rogue Jaeger's begin to reek havoc, linking to even bigger threat that ignites the return of the menacing Kaiju monsters and their sinister goals for world domination.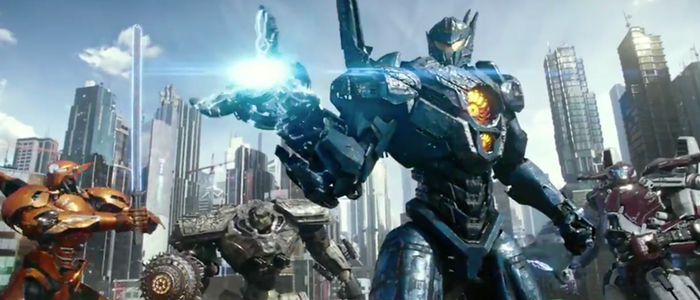 Uprising of course isn't going to win any awards for its story - probably an obvious claim for those who've even yet to see it. However, what's interesting is the path the narrative takes as things get going, becoming more than a simple rehash of the first movie. There's a decent level of heart to it, and while its emotional moments are cliché for sure, the cast portray such moments with solid performances, notably Boyega and Spaeny in their lead roles, and the morals conveyed are relatively touching if somewhat uninspired. It's this that makes the story a decent skeleton to link each of the inevitably gripping action sequences, and while a number of contrivances and daft plot twists do certainly pop up out of the blue as we approach the climax, it's all still, again, just that bit more than a dull rehash of the first movie.
Of course action and visual effects is where Uprising does stand out in an impressive fashion. The Jaeger's pummelling each other in many epic bust ups, mercilessly trashing every environment that surrounds them, equates to some superb set pieces that naturally make for the film's best moments. Some may certainly feel dragged out, and perhaps a little repetitive, but if you come to see the film it's arguably these scenes you're here to focus on, and they surely won't disappoint most fans. It's all brought to life, as with the original, some remarkable visual effects; Jaeger's not only look fantastic, but are animated just as superbly - and of course, IMAX is definitely how the film was meant to be viewed, as may seem obvious. Its story may be second rate to many, but at least there's a fairly decent amount of effort put into it, and, as I've made quite clear by now, the set pieces we're treated to alone will make Uprising worth watching for fans of such stuff.