Another money making machine from Marvel arrives - Avengers: Infinity War has the iconic heroes face arguably their toughest foe yet, the power hungry Thanos (Josh Brolin), who seeks to acquire all the legendary Infinity Stones to gain control of reality itself. Dozens of previous MCU films have built up to this gargantuan story, evident when you see just how many heroes are blended together in comparison to the first film back in 2012. For those who may not even be the biggest fans of this ever expanding franchise, this certainly remains a superhero thrill ride worth checking out.
The MCU has been somewhat on and off for me in recent times - for every brilliant entry, there seems to be an equal amount of mediocre and sometimes downright awful ones. Sometimes I fear many more recent entries seek to do nothing other than to build up the story to these epic ensemble blockbusters. With this is mind, Infinity War thankfully doesn't feel like a forced blockbuster blending many iconic heroes together to simply turn a truck sized profit; while not without its faults, it's a largely well structured, thrilling adventure that, as has been said by many viewers and critics, never forgets the necessary depth and humanity required to make this more than a mishmash of chaotic battle scenes.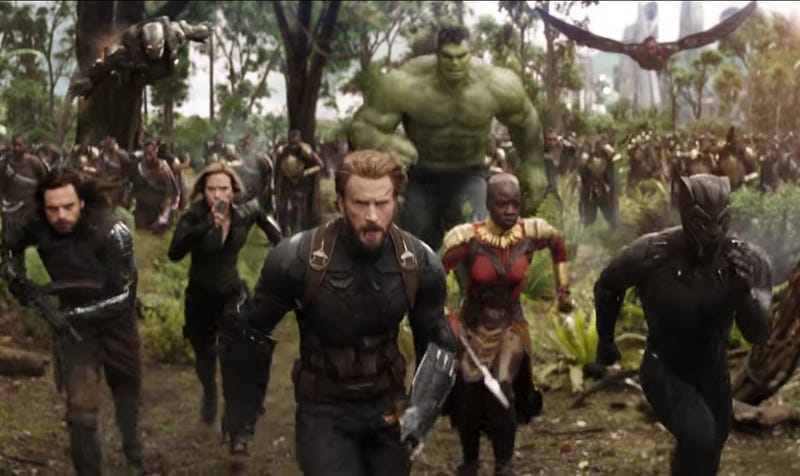 Infinity War is of course a film that prides itself on superb special effects, and said special effects are handled masterfully. Be it the incredible motion capture on the likes of Brolin as Thanos, or simply the lineup of stunning action sequences, it maintains the MCU's legacy of having some of the best visual thrills since Iron Man kicked things off over a decade ago now. Yes, some of its action scenes may drag at times, and perhaps become somewhat samey as we approach the conclusion, but it doesn't stop the from being enjoyable; and within them as we near the finale come a fair share of interesting twists and turns in the overall story, helping to keep us hooked even further.
The cast is also without a doubt one of the film's finest merits, many will agree. Our favourite MCU stars from previous hits are back, with a solid chemistry between one another that helps their interactions feel far less forced. It's Josh Brolin of course who stands out , at least in my eyes, not only due to the brilliant aforementioned motion capture effects but also his sinister yet emotionally stirring performance as one of the best villains in a superhero film to date. His talent thrives for sure, but such praise is also earned by the majority of the actors it can be said - ranging from beloved Downey, Jr. to more recent arrivals like Chadwick Boseman. I won't grossly defend every inevitable flaw - things do get a bit jumbled as we near the end, and there are flashes of excessive silliness at very awkward moments, but all in all Marvel brings us another exciting, largely well structured blockbuster. One can now only look forward to where the plot takes us next...