I gotta be honest and say there aren't a huge array of films I'm psyched to see next year, making this most anticipated list one of the hardest yet to compile. Still, there is some good stuff on the way, so here I'm gonna run through the five I look forward to the most, even if it's not purely for good reasons...
#5 - Beauty and the Beast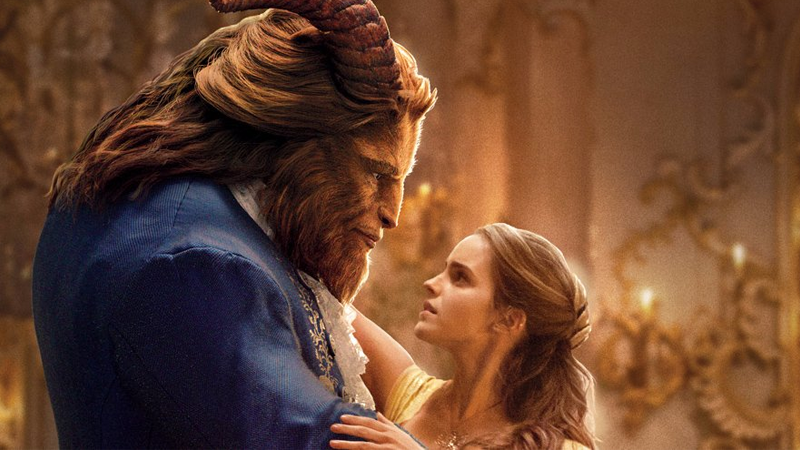 What's enticing me to check out Disney's newest live action remake come March is the overall production values at first glance. Whilst Dan Stevens' design as the Beast has generated some controversy, I found the appearance extremely well done and the voice absolutely spot on - the same can be said for the various supporting characters, all of whom find themselves played by equally fantastic actors such as Ian McKellen, Ewan McGregor, and Emma Thompson.
The main issue I have with it is that Emma Watson in the lead role, while perfect in terms of her overall appearance, never won me over in the various trailers; Harry Potter jokes aside, all I heard was Watson talking in each scene with a little bit of effort visible at times. For the most part, she seemed painfully bland, and considering she is one of the titular roles, this worries me a great deal. So, this film becomes a most anticipated title for two key reasons: to see the rest of the world surrounding the story brought to life in the same dazzling way it was in the trailers, but also to see if Watson's overall performance turns out to be better than these previews make it out to be.
UK + US Release: March 17
#4 - Pirates of the Caribbean: Salazar's Revenge
Of course known by it's mouthful of a subtitle
Dead Men Tell No Tales
in the US, the fifth installment of the
Pirates of the Caribbean
franchise comes six years after the last film, which interestingly finds itself being the most expensive to date with a budget of nearly $400 million with all expenses accounted for. The initial trailer for this next effort debuted just three months ago, showing Javier Bardem as Captain Salazar savagely attempting to hunt down Jack Sparrow himself, his established former nemesis. It's high on tension and thankfully low on stupidity and unnecessary action, which helps to capture the atmosphere and make things look much more promising.
I'm a big fan of the series in general, even if
At World's End
is far too long and
On Stranger Tides
overwhelmed by it's obsession with endless, effects driven set pieces. Johnny Depp still performs strongly in each one no matter the film's overall quality, and the aforementioned trailer also reduces the effort of banking on naught but his bizarre mannerisms in the role by not showing the character at all: only the villain and his crew in a unsettling landscape. I may be proven wrong in the end and it could be as mediocre as it's predecessor, but I'm gonna hope it turns out much better - which to be fair isn't too difficult.
UK + US Release: May 26
#3 - Spider-Man: Homecoming
Yet again the
Spider-Man
series approaches it's next reboot, following on from the mediocre outcome of the
Amazing Spider-Man
films and a deal put in place some time ago between Sony and Marvel to integrate the character into the ever expanding MCU. Tom Holland debuted as the web slinger in last year's
Captain America: Civil War,
appearing briefly in the climax in what was, in my opinion, one of the most irritating portrayals of the character without a doubt. Lacking any personality aside from being a smartass and having no real solid purpose in the final fight aside from a visibly rushed attempt to show him off in an MCU film as soon as possible, his role just made me detest the character's cinematic reputation even more and question Holland's true strength within the role.
However, the first trailer for Holland's own Spidey movie came to us only last month, showing off once again the admitteddly impressive new costume, more focus on Peter Parker himself, and some brilliant new set pieces. The jokes from Spidey himself work a lot better and seem far less try hard than his
Civil War
appearance, which hopefully will result in the balance being met - portraying the hero with his trademark sense of humour but not overdoing it to the point of plain stupidity. Michael Keaton's role as Vulture also looks pretty cool, and so this'll hopefully all lead to a better outcome - yeah, it looks cliché in some ways, but I'm still enticed to see how it pans out.
UK + US Release: July 7
#2 - War for the Planet of the Apes
The
Planet of the Apes
franchise reached new heights of success both critically and commercially with 2011's
Rise of the Planet of the Apes,
and this only excelled further with it's 2014 sequel
Dawn of the Planet of the Apes
- which earned even stronger critical acclaim and over $700 million in box office revenue. This next installment focuses on the apes fighting the human tribes for domination of Earth, with central character Caesar (Andy Serkis) resorting to his darker traits in order to ensure the survival of his species.
Thanks to what looks like another superb performance by Serkis himself and some superb tension and set pieces demonstrated within the trailers, this next installment to the series looks like an epic outcome to the narrative threads developed within it's predecessors, finally reaching the stage of the original films where war emerges between these two species. If it retains the level of quality demonstrated by
Rise
and
Dawn,
then it'll surely be another memorable summer hit.
UK + US Release: July 17
#1 - The Nut Job 2
Whilst the original
Nut Job
is no masterpiece, it's hard to deny that critics were harsh on it from the get go, seemingly hateful against it because it lacked the production values of Disney's finest works. When it comes down to it, the story was there, the characters were enjoyable, and it all....
...HAHA no. Jk.
ACTUAL #1 - It
A very strange choice, right? Based on Stephen King's 1986 horror novel which I've not even read, my main interest in the story of
It
stems from viewings of the 1990 TV adaptation starring Tim Curry in the lead role. Whilst limited visual effects and some daft narrative ideas made it a bumpy ride, Curry's performance and the unsettling themes of exploring fears deep within us managed to ensure it was a decent viewing for the most part.
This time round, Bill Skarsgård will take the helm as Pennywise the Dancing Clown, the initial form of the titular evil as it haunts a group of a children, leading them to rebel and fight back against it upon reaching adulthood. Part of me is unable to describe what makes me so hyped for this film - I've not read the book, know little of King's works, am not the biggest fan of the TV film despite it's many strengths, and little marketing has yet taken place so early on - no trailers, no posters, and barely any other official images aside from the appearance of Pennywise himself. Still, my ongoing interest in the story as a whole and love for a well made horror film has kept me coming back each day to see when a trailer will finally be revealed, and I look forward to seeing how it all turns out.
UK + US Release: September 8
...now is this where they upload the trailer and it ends up looking really bad?